In the rapidly changing business environment, globalization, the declining working population due to the declining birthrate and aging population, the progress of DX, and the transformation of new work systems, values, and business models due to the impact of the novel corona virus pandemic, we are promoting the construction of a human resources environment that contributes to building a sustainable society.

In addition to aiming to be a company that is an easy and rewarding place for employees to work, we are emphasizing respect for diversity, staffing with the right people in the right places, human resource development over the medium to long term, promotion of health and productivity management, and improvement of engagement through fair evaluation and comprehensive compensation policies.

Through these various personnel measures, we will maximize the performance of people and organizations and continue to provide a foundation for each individual to take on challenges with passion and pride, all of which aims at creating a society in which everyone's safety and security are ensured.

Human resources are our most important asset, and we believe that employee growth is the driving force behind the company's development. Based on the human resources issues broken down into 11 categories in the figure below, we respect diverse individuality that is rich in ideas and that will contribute to building a sustainable future.
Diversity & Inclusion
We recognize the importance of diversity and inclusion in ensuring sustainable growth, both for the Group and society. Our basic principle is to prohibit discrimination based on gender, nationality, religion, age, disability, or any other criteria. We aim to foster a corporate culture full of trust and co-creation, in which employees with different values and ideas can respect each other and feel rewarded by their work.
Education System Chart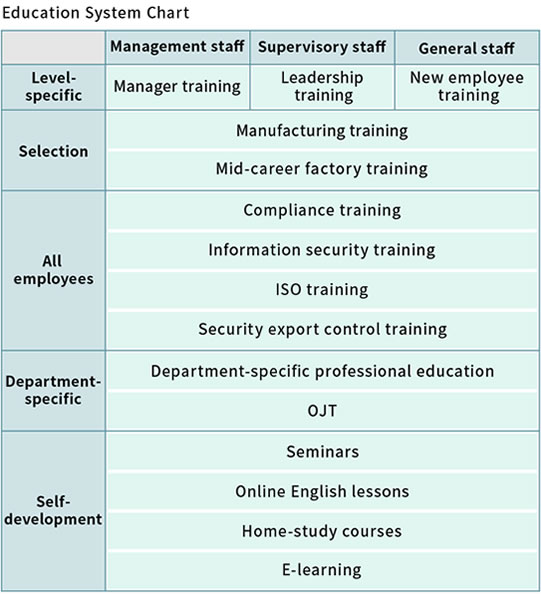 Seminars: In FY 2021, we are holding seminars on sustainability matters such as human rights, mental and physical health, and diversity.
Improvement in Employee Engagement
We believe that human resources are our most important assets, and that the development of each employee is a growth engine for the company. Since 2008, we have been conducting regular employee opinion surveys with the aim of fostering a positive corporate culture and continuously improving employees' motivation and job satisfaction.
We also focus on improving engagement with employee families, regularly conducting Family Plant Tours in Summer Vacation.