Identification of material issues
At Toyo Tanso, the Sustainability Promotion Committee examined material sustainability issues and reported the results to the Board of Directors. In December 2021, the Board of Directors approved the list of issues. We will increase our sustainability by accelerating our efforts to address the material issues, and will contribute more and more to society and the environment.
How the material issues were selected
 To identify material issues, we investigated our relationships with society and the environment along our value chain, and then identified sustainability issues, referring to issues addressed in global efforts, such as GRI, SASB, and SDGs, as well as issues listed in relevant guidelines.
 After that, we evaluated the identified issues in terms of the impact our company can have on society and the environment, and the impact society and the environment can have on our company, with regard to each issue, and then selected the ones that were evaluated to be very important for either of the two cases as material issues. These material issues were reviewed by the Sustainability Promotion Committee and then, in December 2021, they were reported to and approved by the Board of Directors.
  We will review the material issues every year in order to promote conversation with our stakeholders, as well as to respond to changing management environments and social situations.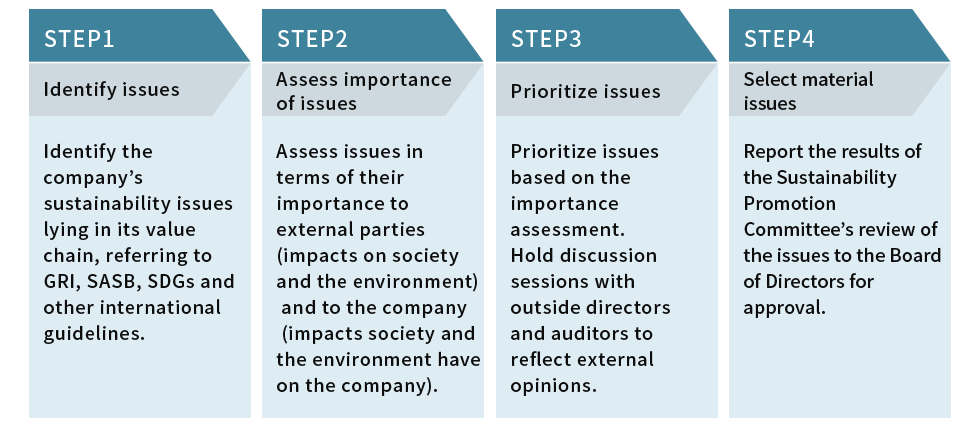 Overview of the material issues
 The Toyo Tanso Group's material issues are composed of 4 social problem categories and 14 key items that the group should work on as a global material manufacturer.
 In particular, products developed, manufactured and sold based on social and customer needs in electronics (e.g., semiconductors), mobility, life science, clean energy, etc. are likely to contribute enormously to the realization of a sustainable society.
Matrix analysis of material issues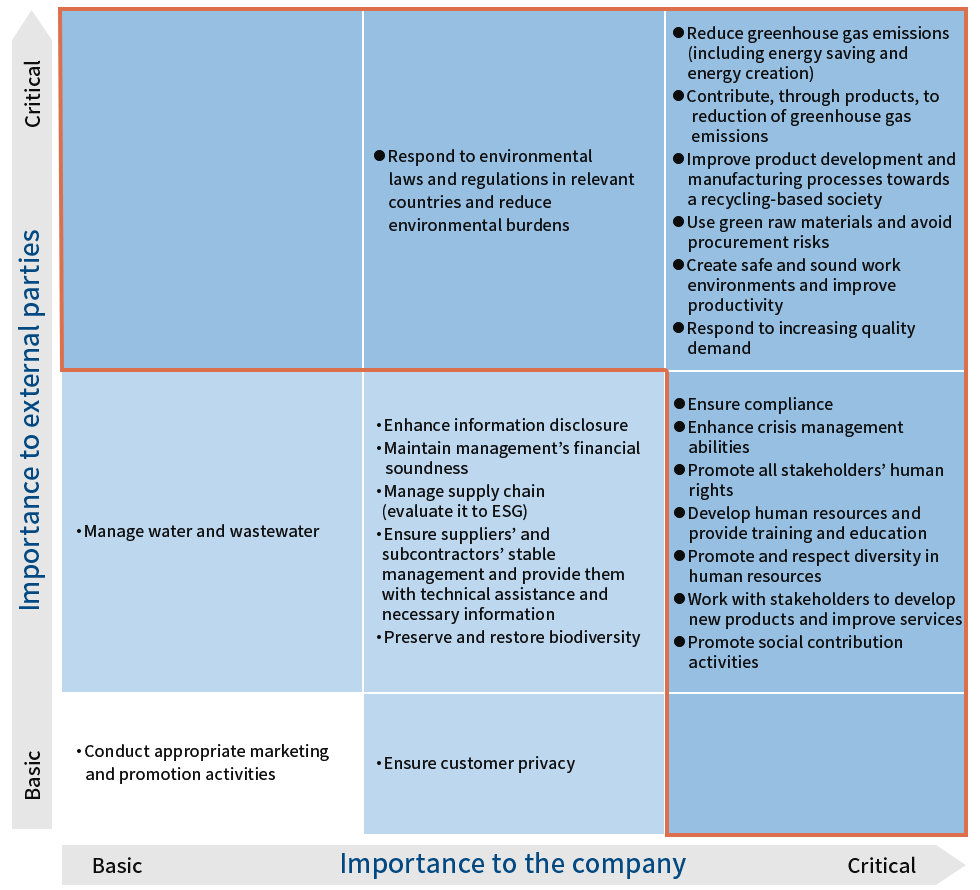 Material issue categories and SDGs
Category
Material Issue
SDGs
Contribute to mitigation of climate change risks and preserve environment
Reduce greenhouse gas emissions (including energy saving and energy creation)
Contribute, through products, to reduction of greenhouse gas emissions
Respond to environmental laws and regulations in relevant countries and reduce environmental burdens
Use green raw materials and avoid procurement risks

E


(Environment)

S


(Society)

G


(Governance)

○
○
○
○

Category
Material Issue
SDGs
Develop products and manufacturing technology to solve social problems and fulfill customer needs
Improve product development and manufacturing processes towards a recycling-based society
Respond to increasing quality demand
Work with stakeholders to develop new products and improve services

E


(Environment)

S


(Society)

E


(Governance)

○
○
○
○
○
○

Category
Material Issue
SDGs
Create safe, secure, and comfortable work environments for all
Create safe and sound work environments and improve productivity
Promote all stakeholders' human rights
Develop human resources and provide training and education
Respect diversity in human resources

E


(Environment)

S


(Society)

E


(Governance)

○
○
○
○
○

Category
Material Issue
SDGs
Promote trustable corporate activities
Ensure compliance
Enhance crisis management abilities
Promote social contribution activities

E


(Environment)

S


(Society)

E


(Governance)

○
○
○
○
○